Our Christmas 2013 products are nearly all in and live on our website now. Many people ask what the trends are each year and here is a summary of what is popular this year.
In terms of colour silver, red, gold and contemporary jewel colours are very popular. This has been a trend for several years now but the key change this year is that design in general is much simpler than ever before. traditional, lavishly decorated products are available but the demand seems to be for simple designs which aren't too busy or ornate.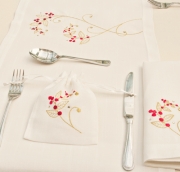 We have a selection of products in these simple designs from Peggy Wilkins and Talking Tables. In addition we have some lovely contemporary style paper napkins and tablecloths from PaperandDesign. We have carefully chosen our 2013 Christmas products so that you can mix and match products from different suppliers. The Snowflake red table runners from Peggy Wilkins go really well with the Red and White table decorations from Peggy Wilkins. The Sparkle Berry table linen range goes well with many of the Talking Tables Party Porcelain products.
Remember that not all of your table decorations have to shout Christmas. A few colour coordinated accessories will look wonderful and create a fantastic Christmas ambience.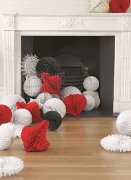 We are absolutely delighted with the paper Pom Pom decorations which have arrived. These are part of the decadent decs range by Talking Tables and they really are wonderful decorations suitable for both home and other party venues such as hotels, pubs and village halls. These vintage style decorations are available in red, silver and gold and come in a variety of shapes and sizes. They are really well made and finished to a high standard.