Celebrating and Decorating A Wedding Anniversary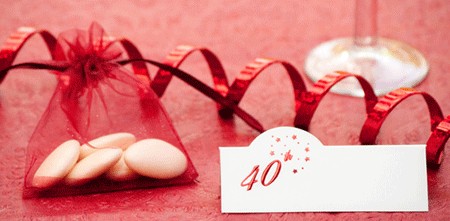 ---
When you have a major wedding anniversary coming up in the next few months you probably want to plan a celebration. You may decide to go away with your partner and have a celebration with just the two of you or you may wish to have a party with friends and family.
There are several types of party you can choose for your anniversary. You may choose to have a small dinner or an informal get together at home or you could book a hotel and ask them to cater for you. An afternoon tea is popular with all ages and is great for the budget conscious and lovers of all things cake. You may want to have a party with music and dancing and possible relive the music of the year you were married. There are a whole host of venues you can choose for a Wedding Anniversary party – most people know the venues which are close to home and have a few firm favourites to choose from.
Once you have decided on what sort of celebration to have you will need to decide how to decorate the party, whether it is at home or elsewhere. If you have chosen to celebrate at a hotel do ask the hotel what they include as part of your booking. They may offer to include all the decorations or none at all. Some venues will include napkins, although please make sure that they fit with your colour theme. So what sort of decorations and tableware do you need for your wedding anniversary celebration? Click here for our wedding anniversary ranges.
Anniversary Colours
A helpful start is to decide on the colour scheme and the major anniversaries have popular colours associated with them, the clue is often in the name!
25th or Silver Wedding Anniversary colour is silver. Use white to keep the theme subtle, add a stronger colour if you want to make more of a statement.
30th or Pearl Wedding Anniversary colour is pearl white. Keep to white unless you want to add a contrast with another colour, or if white is too bland for everything you might introduce a pale ivory.
40th or Ruby Wedding Anniversary colour is ruby red. This is a striking colour, sometimes mixed with gold or ivory to soften the effect
50th or Golden Wedding Anniversary colour is gold. Ivory is the most popular choice for contrast
60th or Diamond Wedding Anniversary colour is open to debate, as you are trying to represent a diamond, which is generally clear, but different colours appear when light is passed through a diamond. Lilac, Silver and purple are the popular choices, and contrast well with each other, and work well on a white background too.
What are the basics for your anniversary tables?
You will need the basic items for place settings or for guests to use if you are having a buffet. The basics are tablecloths or runners, plates, glasses, cutlery and napkins. Naturally hotels will provide the tablecloths, crockery and cutlery but you may wish to use colour themed and printed napkins. These are available in several sizes and we would recommend the luncheon size for a buffet or tea and the dinner size for a sit down meal. If you are catering at home and want to match plates and napkins and save on the washing up there are lots of pretty paper plates available along with disposable cutlery and glasses. You may also wish to use disposable tablecloths and these are available in lots of colours. You can also use the large rolls of organza as table runners. It comes in all sorts of colours and patterns as this is a really cheap way to cover tables and can create a totally coordinated look for your tables.
If you are having a formal sit down meal and there are more than six people we would recommend using place cards so that people know where to sit when they arrive at the table.
What decorations can you have on anniversary tables?
The choice of decoration is entirely yours but the simple choice is to create table centrepieces for each dining table or for the buffet table. You can then accessorise the tables sparingly with a few additional items to give them the wow factor.
Centrepieces
Table centrepieces are often flowers or balloons, sometimes a combination of the two. Again the traditional anniversary colours are popular or you may prefer your own choice of colour. There are other options and some people use a cake stand as they are hugely popular – these are of course ideal at an afternoon tea or you can fill them with little guest gifts, chocolates and trivia games to create an interactive centrepiece.
You can ask a florist to supply the flowers for you, you may wish to arrange them yourself or you can simply buy cut flowers and place them in a vase. Balloons are a reasonably simple option especially if you follow our balloon decoration guide.
Table Confetti
To compliment the centrepiece we recommend using table confetti and/or table scatter crystals for a pretty effect. This is available in a huge range of styles and colour ways. You always need less of this than you think as you only need it for the centre of the table and not where guests will have their plates and glasses. For confetti we recommend one bag for every twenty four people. You can combine different types of confetti such as anniversary confetti with plain chamoagne glasses or hearts. This is easily done by tipping one bag into the other and giving it a good shake.
Favours
You may wish to give the guests a small thank you gift in the form of a box or bag with a little chocolate or another gift inside. These too are available in the traditional colours for anniversary with some printed with the anniversary itself. These have a dual purpose of decoration and favour.
Other Table Accessories
Some people like to offer crackers at each place setting and these are great fun with a few trivia questions and the traditional joke. Bubbles are another good idea and these are especially popular with children.
Little boxes of trivia are very inexpensive and there is a huge range of different themed trivia games available. As you are likely to have a whole range of ages at your anniversary party these can be especially useful with children's trivia, British themed trivia and music trivia to name a few.
The Room Decorations
The room can be further decorated with balloons and swags of organza. Add to this some anniversary banners and traditional bunting and it will look wonderful. Paper pom poms are very popular and these look lovely hung from the ceiling. If you are partying outside try and use shower proof bunting, balloons should survive a shower reasonably intact.
Guest Books
A guest book is a lovely way to remember your wedding anniversary. You can make it into a mini album of the day by asking guests to write a message and then adding photographs to the book. One great way of creating a guest book and ensuring that everyone includes a message is to leave a card at each place setting asking for it to be filled out with their personal message, special memories and thoughts of the day.
The Anniversary Cake
No celebration is complete without a cake and an anniversary is no exception. If you are a good cook you can make your own or possibly ask a friend too. If you prefer to buy a cake you can buy simply iced cakes in many super markets and stores such as Marks and Spencer. You can then source one or two tasteful anniversary cake toppers and then perhaps add a ribbon to go round the cake for a simple but stunning effect.
We hope that this has given you some ideas for an anniversary party and celebration. If you have any more ideas or suggestions please email sales@soraiseyourglasses.com
Back to guides