About Us
So Raise Your Glasses was incorporated in 2003 and started trading early in 2004.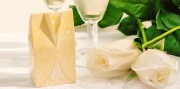 The business has now established itself with this rapidly growing website. We continue to develop our ranges in line with the needs of our customers in the celebrations market, and we pride ourselves on supplying quality products for Weddings, major Wedding Anniversaries, Birthdays, Christenings, Naming Days, Engagement, Hen Night, Dinner Parties, Afternoon Tea and other important celebrations throughout the year, including Christmas and New Year.
We aim to despatch goods within 1 working day of each order being placed, subject to stock availability, and we frequently despatch the same day that the order is placed. If we are going to be more than a day late despatching to you, or we have a problem with stock you need for your order, we will contact you. Take a look at what our customers say about us.
Telephone Orders: We are very happy to receive orders over the telephone if you prefer to place your order this way. Just ring 0800 5677850 - We will usually answer between 9.00am and 5.30pm Monday - Friday but if we are busy and at other times please leave a message and we will ring you back as soon as we can.
Delivery is to U.K. addresses only. We show only those items that we have in stock, on our website, and we update the site for stock availability every 24 hours, but occasionally more of an item is ordered than we have available. If this is the case we will contact you to gain your approval for any change we make to your order before charging you and before despatching any goods.
Our standard delivery is via 1st class recorded post from Royal Mail. This will often be received by you the day after despatch, but this is not guaranteed, as the Royal Mail provide no guarantees for 1st class mail. If you need to be certain that your order arrives urgently (within a day or two) please select our Express Delivery option at checkout, which guarantees delivery within 2 working days and is usually next day. We charge an additional £2.45 for this service.
Returns
We are happy to receive back any goods that are surplus to requirements or unwanted as long as they are still in the condition in which they were received. We ask you to include your name and order number with the goods when returning them and we will refund in full (less the carriage charge) as soon as we receive them back.
Our postal address is:
So Raise Your Glasses
Unit 26, Brookside Business Park
Cold Meece
Stone
Staffordshire
ST15 0RZ Telephone 0800 5677850
What Does So Raise Your Glasses Offer You?
From entertaining family and friends at home to a major event, either casual and formal, we have everything you need to make your celebration a truly special occasion.
We supply products for all types of special occasion: weddings, wedding anniversaries, birthday parties for adults and children, christenings, Christmas and many more. We hope that you find everything you need.
Our range includes celebration and party tableware, table linen, room and party decorations, Christmas decorations, wedding favours, wedding accessories and many special occasion gifts, such as Christening gifts, wedding attendant gifts and much more.
If you can't find the product you want, please contact us and we will try to source it for you.