Just as fashion changes in terms of style, colour and design party decor also changes each year. Here at So Raise Your Glasses we always like to keep an eye on fashion and the party decor market in order to understand what will be hot in the current year. You may be surprised to learn that party decor colours and prints tend to follow womens clothing fashion and the colours in the fashion stores is generally reflected in the new products released into the party market each year .
2015 Party Styling
In 2014 we saw lots of vintage style prints and mint green mixed with strong pinks was a very popular colour way. In 2015 we are predicting pastels especially pale pink, blue and green will be very big sellers. Retro style prints with a modern twist will also feature strongly and there are lots of prints around in paper napkins, tablecloths and table runners which are stylish and pretty at the same time. These prints are perfect for a tasteful celebration lunch, wedding or for stylish party decorations.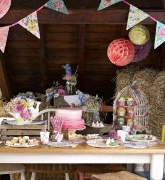 Image copyright Talking Tables Ltd
Vintage prints will continue strongly again in 2015. They have featured in the party market for several years now and will continue this year. The vintage party ranges have evolved somewhat since they first appeared with lots of coordinating products now available including bunting, cake stands and pom poms plus all the usual items such as napkins, paper plates and tablecloths!
Home made styling adds a personal touch and a mix of bought in pre printed products and some you have made yourself such as place cards and guest gifts. We always recommend with this type of decor to keep it relatively simple and not to have too many themes and colours going on at once.
Image copyright Duni
The stronger colours of hot pink, green and brighter blues will be popular again this year and these look lovely at a summer party creating the perfect ambience.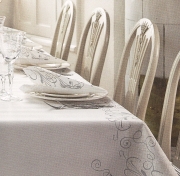 Image copyright Duni
For anniversaries the traditional colours associated with each anniversary still rule and so gold, silver and red cannot be ignored. These colours also stay ever popular for weddings with gold and silver providing the perfect base colour. Gold or silver and white looks very smart indeed but both can be mixed with almost any other colour.
Types of Party and Celebration In 2015?
There has certainly been a move away from the traditional buffet and disco over the past few years and now people celebrate in all sorts of ways. Those who love afternoon tea will do just that and of course it not only looks and tastes amazing but is light on the wallet as well. Afternoon tea tables can look beautiful really simply with a central cake stand and some pretty tea plates and napkins. Add some vases of flowers for a great finishing touch.
Long lunches are less formal than a dinner party and the retro style prints available this year provide the perfect table decor for these celebrations. Formal dinner parties are always popular and styling these can be done using all sorts of colours and products.
Many people still love the opportunity to have a buffet meal and some music to dance with a live band or DJ. These occasions often require large scale decorations and balloons, bunting and pom poms are ideal for creating the party atmosphere and for filling large spaces.