This great guest blog by Marcelina Hardy looks at colour themes for your Wedding Bouquet and we believe that it gives you some great ideas for your overall Wedding colour scheme.
---
Bouquets for All Colors and Themes
One of the most difficult floral decisions brides have is the decision on which bouquet will match their wedding colors and theme. This is understandable since there are millions of bouquets brides can choose from, and many of them are made up of many colors and a theme of their own. To help you with your decision for a bouquet, here are four bouquets that are different from one another, so you can see how well they match your wedding décor.
Dramatic Passion Pinks
These colors go with a pink themed wedding, but they stand out even more with a complementing color such as the grey you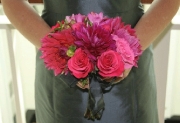 see in this image. When someone sees a bridesmaid walk down the aisle, the first thing that captures their eyes is the bouquet, and then that leads them to the beauty of the dress. This exactly the way it should be when it comes to a bouquet.
Calming Blue for Beautiful
Blues and whites are so calming, and that is how a wedding should be, so choose this type of bouquet if you want to portray a classy elegance with your wedding. Many people use this type of bouquet with blue and white dresses, but it can go well with light peaches, pinks, and even red hued dresses.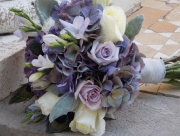 Lilac and White for Springtime Bliss
This bouquet goes with just about any color dress, and it has a hint of lilac to bring out any of the springtime theme you have with your spring or summer wedding. Many brides decide to bring out the lilac color of the bouquet by wearing a sash at the waistline of their dress. This really brings out the dramatic beauty of this bouquet.
Pretty Purple for Unsurpassed Style
The bright purple in this bouquet is what captures people's attention. This captivating color will make your guests exclaim how beautiful your wedding has turned out. You can choose the bouquet for a wedding in which white is the main theme color, because it really stands out with the stark white color. Try not to pair this bouquet with a bridesmaid dress of a similar color because you'll risk washing out the true beauty and captivation of the flowers.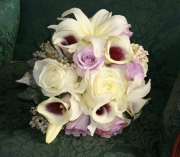 Decide on the Perfect Bouquet
You don't have to have the same bouquet for your bridesmaid and you. Many brides decide to choose a bouquet for themselves and a different one for their bridesmaid. This makes sense since the bridesmaid typically wear a color of the brides choosing, whereas the bride wearing white or ivory. When shopping for flowers, don't be afraid to ask your florist if she has pictures of other brides and bridesmaids with their bouquets. This will give you an idea of which ones go best with which colors. Of course, you can always create your very own work of art by pulling in ideas from here, your florists and other bouquets you've seen. That will make it even more special to you, which will truly make you happy and impressed with your wedding planning.
Marcelina Hardy loves to help brides with their floral arrangements, particularly their wedding bouquets. She recently married and she loved the bouquets she chose for herself and her bridesmaids. She used wedding flowers from Amore Fiori in Denver. To read more tips from Marcelina, you can check her Google+ profile.