Have you made your 2013 Christmas cake yet? I am always surprised how quick it is to make the Christmas cake. I put it off thinking it will take loads of time but when I get round to it, it only takes about an hour. My usual mistake is to set about making it forgetting that I need to soak the fruit for several hours. I did this again this year but had plenty of time the next day to make the cake. Now all I need to do is to keep feeding it with a little brandy, then marzipan a few days before Christmas and ice on Christmas Eve.
A couple of years ago I purchased one of the Birchcraft Christmas cake decorations and this certainly makes the cake decorating easy plus it looks impressive too.
.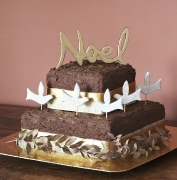 We stock a whole variety of Christmas cake decorations and there is sure to be something which suits your style and budget.