Guide To Christmas Party Decorations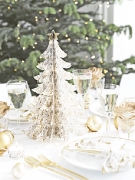 ---
If you are organising a Christmas party you are probably looking to buy some party decorations. The choice available is overwhelming and deciding what to buy is sometimes difficult. We have put together this Christmas Party Decorations Guide to give you some hints, tips and ideas.
Venue
The first thing you need to do when deciding what to choose for your Christmas party décor is to have a good look at the venue. This can help you choose the colour and type of decorations to use.
Venues are often carpeted or have wall decorations in a strong colour and you need to blend your décor with these.
Have a look at the room and note window sills, mantel pieces, pillars and beams. These can all be decorated and can really set the scene.
Ask the venue owner if they are going to decorate the room themselves. If they are you may wish to boost these with a few more but they may provide the basics.
If your Christmas party is at home then of course you know the areas which can be decorated. You can use the features in your home such as the staircase, the mantel piece and ceilings to provide a base for your decorations.
Colours
Christmas decorations are available in a whole host of colours. The traditional colours of red and green are still popular as is gold. A cleaner, contemporary look can be achieved with silver and white. Other strong colours such as purple and teal are gaining in popularity and can be mixed with silver.
What Christmas Decorations To Use
The focal point of most Christmas parties is a Christmas tree and if you have the space this is an effective and beautiful way to decorate your room. If there is not enough space there are plenty of other decorations you can use.
Garlands look lovely on stairways and mantelpieces and Christmas banners and bunting can be hung across the ceiling.
Balloons always create a wonderful party atmosphere and there are balloons available in lots of colour-ways both plain and with Christmas designs. Filling balloons with helium creates a lovely effect. You can dot gold or silver stars around the room or fill latex balloons and tie in clusters of 5 or 7. Balloons look best in the corners of the room, by the entrance and on the edge of the dance floor. Of course they can also be placed on the tables to create table centrepieces.
If you are on a tight budget you can use plain snow sheer organza rolls to tie around pillars and to drape across the room. Twist the fabric and then pin or tape in place. These are also useful as alternative table runners.
Table decorations are explained in detail in our Christmas Table Decorations Guide but in brief you generally need to select a table centrepiece and use coordinating Christmas party plates, napkins and tablecloths or table runners. Tablecloths and runners are available in a range of Christmas designs or you can use a plain table cover in your chosen colour. Banquet rolls are a cost effective alternative. Accessorise the table with table confetti, crackers, party poppers and if you are having a sit down meal use place cards. You can offer your guests gift favours and use table games such as table trivia to help break the ice.
When selecting your table decorations remember to make sure that they coordinate with the rest of your décor. Don't place too many decorations on each table otherwise it can end up looking muddily. A focal point and then a few accessories at each place setting is ideal.
Buffets
If you are having a Christmas buffet we suggest that you place the buffet table in an area which can be easily accessed by all of your guests. Ideally the buffet table should be along a wall or centrally in the room with some space both ends with an area for guests to line up and to make an obstacle free get away once they have loaded their plates. Place plates at one end and then the food with the cutlery wrapped in a napkin at the end – this makes it easier for your guests to serve themselves as they are holding just the plate.
The buffet table should have one or two centrepieces and perhaps some table confetti scattered over it. Don't forget to allow for a table cloth or runner on the buffet table when calculating the quantity you need.
An area for serving drinks should be chosen and we would suggest that this is away from the food to minimise congestion. Don't forget to have a nominated place for guests coats. If you are having lots of guests you may want to borrow a free standing hanging rail so that they can be hung up neatly.
Music
Choose music which reflects the style of party you are having. There are many compilations of Christmas music available and these are ideal for drink and canapé parties. Perhaps you have friends who play in a band who can entertain your guests as live music always creates a great atmosphere.
If you need any guidance on quantities of Christmas party tableware, banners, balloons and table decorations we would love to help. Please feel free to call us.
Back to guides