Guide To Christmas Tableware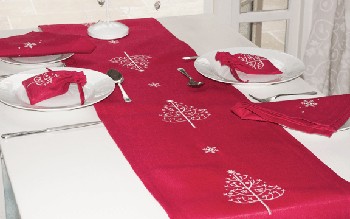 ---
We stock a large range of high quality linen and paper Christmas tableware and of course many people mix and match the two.
Our range of Christmas tableware is very comprehensive and we suggest that you have a look through what is available and choose a base item such as a tablecloth or table runner which you like and build your tableware from there. Of course you can mix and match and use a linen table runner or tablecloth and paper napkins.
The big advantage of Christmas linen tableware is that it can be reused year after year and so that small extra investment pays off over time. Of course it can also be reused several times over the Christmas period and as many people have drinks parties and social events it is more economical to use this and then wash and dry it several times over the Christmas period. Most of our table linen is easy care and machine washable – all the details are shown against each product description.
We have been buying Christmas table linen from Peggy Wilkins since we started the business and Peggy Wilkins continues to supply a beautiful range of tableware including matching Christmas tablecloths, table runners, napkins, gift bags and mantel runners. The range really is stunning and we ourselves always have a Peggy Wilkins table runner on our dining table. It washes well and seems to last and last.
Our paper Christmas tableware products are supplied by Caspari, PaperandDesign and Talking Tables.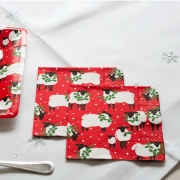 We have stocked Caspari paper tableware right from the start as the range is massive, of exceptional quality and diverse in terms of designs available. We stock a vast range of their paper napkins, party plates and tablecloths. The Caspari Christmas range is diverse with both traditional and humorous designs included.
PaperandDesign was new to us in 2012. Their products have a contemporary feel and they also supply a large range. They are based in Germany and the quality is exceptional. Their range of banquet rolls, paper table runners and air filled tablecloths is really lovely and our customers are very happy with them. We offer a wide range of their products in both patterns and plain designs. Their range of paper Christmas dinner napkins has proved very popular.
Talking Tables is a British company based in London. They are great innovators and release new ranges of coordinating tableware every year. Their ranges are comprehensive and their Christmas tableware ranges include tablecloths, paper plates and napkins or serviettes and they produce a range of coordinating table trivia, saucer crackers, cake stands, place cards and other paper decorations.
Paper table runners are great for larger Christmas gatherings, as you can cut them to size, they look smart and they are really easy to use. Banquet rolls are much larger and will cover a whole table. We have plain coloured laminated rolls or we have banquet rolls in a number of Christmas designs. All of them are laminated and can be wiped clean in the event of a spillage.
If you are going to use paper napkins we would recommend that you use dinner napkins (40 cm square) for the main meal. You may want to supplement with a luncheon napkin (33 cm square) for dessert or use this size for a casual pre Christmas or Boxing Day meal. The cocktail size at 25 cm square is perfect for mince pies, cake or for canapes.
Back to guides