Our Essential Guide to Decorating Your Christmas Table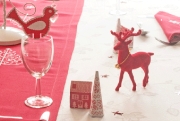 ---
Christmas is a time when everyone wants to create a beautiful table for your family and friends to admire and enjoy. Equally you may be organising a Christmas dinner or function and need to create the right atmosphere and your Christmas table decorations play an integral part.
This guide will give you some broad hints and ideas on creating a beautiful Christmas table.
Colour
Colour is an important consideration and there a several options for Christmas tables:
Red, green and gold are the traditional Christmas colours and anything you buy which is re-useable will be in fashion year after year. These colours are warm and strong providing a striking festive effect.
Silver and white are very popular at the moment and will always be 'current'. They provide a clean, simple but contemporary look for your table.
In the 21st century colours are not limited to the ones above with purple and black now increasingly popular. Deep pink, teal and purple mixed create a really contemporary look.
Style
There are many styles of Christmas table decorations available. The keys styles are traditional, contemporary, family fun and Scandinavian.
Building Your Christmas Table Decorations
There are some key items which you need for your table, items to dress the table up and some fun extras to keep everyone amused.
Essentials
The base items for your Christmas table are a tablecloth and/or a table runner. Depending in the type of table you have you may wish to use a tablecloth or mats with a runner if your table surface is precious. For home events we recommend our linen products as they can be washed and reused year after year. For functions we stock a range of paper tablecloths, runners and banquet rolls. Add to these the key items such as cutlery and glasses and napkins and you have the basics for your table. Napkins can be linen or paper and there is a huge selection of both available, we stock a large range of quality products if you would like to have a look at our range. Food will be served on crockery or paper plates which are available in a large range of designs and varying sizes.
Basic Decorations
The decorations you need to dress your table include a table centrepiece, candles and place cards.
The table centrepiece can be real flowers and foliage such as holly, artificial flowers or something unusual such as a small table top Christmas tree or some pretty lights. You can often combine a floral centrepiece with a candle which creates a warm glow on a dull Christmas afternoon or dark evening.

Place cards are of course optional at home but becoming increasingly popular. People love the formality of a well presented dinner at home and creating a special place for each member of the family or your friends makes them feel special. At larger Christmas events away from home place cards are essential so that people know the most appropriate place to sit.
The Fun Bits
Christmas should be all about fun and of course Christmas crackers have been a huge tradition in the UK for many years. Crackers come in all sorts of sizes and colours and so you can use small saucer crackers which include conversation starters or go for the larger crackers with the usual suspects of a hat, a terrible joke and a gift.
Table trivia is huge fun and these are now available in all sorts of subject matters for all age groups. Place a box on each table and everyone is sure to have fun and, if they don't know each other, they soon will! The youngsters are sure to enjoy some bubbles which can be found in our finishing touches category.
Finish the table off with streamers and table scatter such as confetti or crystals.
Larger Functions
For the larger Christmas dinners and banquets we also stock table numbers and holders so that you can create a table plan and guests can quickly locate their table.
We hope that this guide creates a good starting point for designing your Christmas table. We have produced a couple of YouTube videos which may be of interest: Planning Your Christmas and Christmas Table Decorations Slide Show
---
Here is a Christmas table decorations checklist:
Essentials:
Tablecloth and/or Christmas table runner, Christmas Napkins, Cutlery, Glasses, Crockery
Basic Decorations:
Christmas Table Centrepiece, Candles, Place cards
The Fun Bits:
Christmas Crackers, Trivia, Bubbles, Streamers, Table Scatter or confetti
Larger Functions:
Table Numbers and Holders
Click here to view our fabulous Christmas range.
Back to guides