Guide To Christmas Tablecloths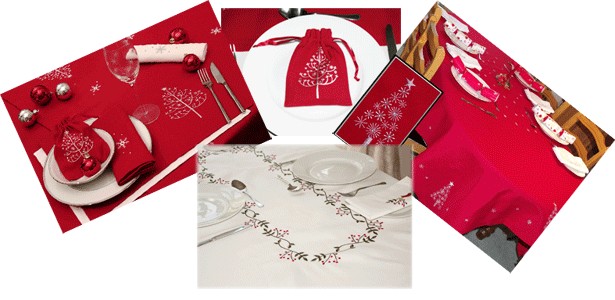 ---
A Christmas tablecloth is like the foundation garment for your Christmas table! It is a key item and is the base for all other table decorations and tableware. We buy our fabulous range of Christmas tablecloths from Peggy Wilkins and I thought you may like to know a little more about the history of Peggy Wilkins.
Peggy Wilkins has been supplying us with our wonderful Christmas tablecloths since 2004 and so here is a bit of history. First and most importantly, Peggy Wilkins is a real person and not just a made up company name! Peggy Wilkins started the business in 1973 and so 2013 is the 40th anniversary of the Company. Peggy is an expert in the manufacture of Nottingham Lace and she grew the business by exporting Nottingham Lace tablecloths all around the world. The production of Nottingham Lace is an extremely skilled craft and the business still sells all grades of Nottingham Lace. We have started stocking Nottingham Lace tablecloths with the huge demand we see today for vintage style products. As the business grew Peggy expanded her range by designing fabric tablecloths and now she has a design team to support her. Peggy is still actively involved in the business today and we always love meeting up with Peggy as her enthusiasm for her business is infectious.
The Christmas tablecloths which Peggy Wilkins produce are really lovely but at the same time very practical as they are generally machine washable. We stock a variety of sizes of tablecloths so that we should have something to fit most tables. Peggy Wilkins does offer a bespoke service for any special requests for plain tableware and we are always happy to take orders for these.
So which style of tablecloth do you use at Christmas? Many people already have a plain white tablecloth (if you don't we do!) and choose a simple 33x33inch Christmas topper to place over this. This creates a nice centrepiece for your Christmas table but keeps the cost down. Of course our best selling Christmas tablecloths are the larger ones which cover the whole table. As I said earlier we stock a variety of sizes and so should have something for all but the largest tables. Don't forget to allow an 18-24 inch overhang when measuring the table. You can get away with a bit less than this but don't skimp and have a guest with the edge of the tablecloth at their place setting.
Many people opt for red as a base. It is the most popular colour choice for Christmas and you can use a white tablecloth with a red topper or a red tablecloth. Silver and white is also very popular and we sell more and more in these colours each year. It's the crisp, clean look of silver and white that creates a simple but stylish base and many colours can then be used to accessorise the table or you may wish to maintain the simplicity and just use silver and white accessories. Of course there are a whole host of other colour ways with beautifully embroidered ivory and gold or white with holly or poinsettia designs available all of which can be accessorised with matching and coordinating accessories and decorations.
Of course we also stock a large range of matching Peggy Wilkins products including napkins or serviettes, table runners, favour or gift bags (perfect at each place setting), mantel runners and stockings. Also don't forget some napkin rings many of which are suitable all year round.
Back to guides