Our Guide To Hen Parties and Celebrations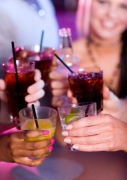 Hen night parties and celebrations have changed a great deal in recent years. A Hen night used to just be visiting pubs and night clubs, wearing a veil or garter and drinking rather too much. This style of Hen party is still popular but the options have now expanded and many brides to be want to do something tasteful and relaxing. Many Brides choose to go away for a long weekend in the UK or overseas, to enjoy a dinner party, afternoon tea or spa day at a special location or to celebrate at home. The key is to make sure that you have the type of celebration you want. A Hen party is a key celebration as you usually invite long standing friends and perhaps your Mum and sister too. It is a time to chill out and do what you want to do.
If you are leaving the planning to someone else such as your Chief Bridesmaid or Best Friend make clear to them what you want to do. We aren't all wild party animals and don't want to turn into one and a more restrained 'do' is what we want.
If you are going to celebrate with a dinner or tea you can always have some restrained accessories such as a sash or t shirt and you can decorate your table with some pretty Hen Night balloons and pretty table crystals. There are lots of trivia games for you and your 'hens' to play, most of them are very tame. Talking Tables have introduced a Truly Bride To Be trivia game and they also have lots of other general titles about all sorts of subjects such as music, Britain, fashion and sport.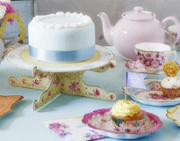 If you are planning an afternoon tea at home the Truly Scrumptious range is perfect as it includes cake stands, paper plates, napkins and bunting. For a dinner party you can keep the style feminine by using pink paper table runners and napkins. Of course some ladies hate pink and you can choose from all sorts of colours to accessorise your table.
Some of our most popular gifts for Hen parties include a personalised guest book and a Hen Night signing plate. All the guests can add personal messages and they will be really treasured for years to come. It is huge fun to ask all the guests to bring along photographs of themselves when they were young and photos of friends together ten and twenty years beforehand are always amusing. You can add the pictures to the guest book to make it into a memory album.
Choosing your guests can always be difficult and if you need to keep the numbers small you need to set a criteria which makes awkward questions easier to answer. We all know who are closest friends are and you need to accept that there are those who aren't so close and they feel a little offended. You will have found the same with inviting wedding guests and so the same things go for a Hen party but on even lower numbers.
Enjoy your Hen party, whatever you decide to do and we will Raise A Glass to you for you party and for your future!
Back to guides