Decorating A Birthday Party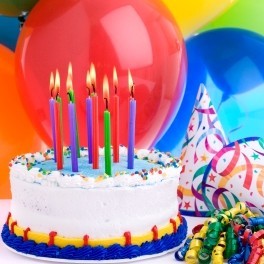 ---
Deciding on birthday party decorations can sometimes be difficult and we hope that this guide can help to direct you a little. There are a few key points which you need to consider when deciding on party decorations:
Who is celebrating the birthday:
Male or female
Age
Favourite Colours and or themes
Where the party is going to be:
Any restrictions
Some hotels won't allow table confetti
Some people don't like balloons
Some venues won't allow anything to be attached to the wall
The Basics
The key birthday party decorations are:
Balloons or an alternative table centrepiece
Banners and bunting
Table scatter or confetti
There are lots of other accessories available such as bubbles, favours, cameras and party poppers. If you decide on the basics first and then add to this as necessary.
In addition you will need tablecloths or runners, napkins and possibly paper plates if you want to use disposable crockery.
Colour Choices and Themes
You know the person who is celebrating and will no doubt understand what their favourite colour is, their hobbies and likes and dislikes. You will be able to theme the party around this. Here are some popular options:
Colours
Jewel colours – strong green, red, blue, yellow and purple
Pastels – soft pink, lilac, pale blue, mint green
Strong brights – hot pink, lime and purple
Black and white or silver
Shades of blue
Shades of pink
Themes
Vintage is the number one trend. Traditional floral prints and lace. Use pastel colours to compliment
Hobbies such as fishing, shopping, sport, music. Find themed cake toppers, ask for related images on personalised items, related printed napkins and use colour to coordinate together.
Table Centrepieces
Balloons
There is a massive choice of balloon colours and prints on the market. Most major adult birthdays are catered for and there are lots of plain colours and patterns which can all be mixed and matched to fit in with your colour scheme. We have a great balloon guide and so won't repeat the 'how to' information here. Three latex or two foil balloons attached to ribbons and a weight are the most popular choice although there are all sorts of configurations you can use if you want something more elaborate.
Flowers
These can be arranged for you by your local florist or you can of course do this yourself using cut flowers from the garden or purchased. You can use simple vases or oasis to create lovely displays.
Foil Centrepieces
These centrepieces are simple to use as they arrive fully assembled. They are supplied with numbers dotted all over or you can use plain colours. All you need do is to remove them from the packet and bend the wire so that the centrepiece looks as full as possible.
Banners and Bunting
Like the balloons, banners are available for all the major adult birthdays. These range from small silk banners ot giant banners. We can supply these next day and they are available in a wide range of colourways. We supply personalised banners for any event, and you can choose words, colour, font, images and still have them despatched in our rapid timescales.
Bunting is massively popular at the moment and shower proof bunting is a great option for outdoors. Wherever you use bunting it always creates that party feel and it is available in lots of different colours.
Table Confetti
Table confetti or scatter is available in all the adult big birthday ages together with lots of shapes such as champagne glass, stars, hearts and butterflies. We recommend mixing a couple of designs together for a great effect. You can make the whole look a bit more 3 dimentional by adding table crystals. Allow one bag of table confetti to every twenty four people. People often buy far too much but a little goes a long way.
Other Decorations
You may wish to add some other items to your tables depending on the type of party you are having. Disposable cameras are a popular choice to capture those special moments. Bubbles and poppers are both great fun and you can create that party effect with streamers strung along the tables.
Tableware
Paper napkins are available in literally hundreds of designs and so there is bound to be something to suit you. You may wish the age to be printed on them or to have a pretty design in the chosen party colour. The possibilities are endless. Paper plates are also available in may designs and you will need a base for all these lovely decorations in the form of tablecloths or table runners. There are some lovely cloth feel paper options available or you can use organza roll, cut into strips. This doubles as swags and chair ties and so is very useful.
Quantities
How much you will need of each item will depend on the venue. If you are having a small party at home or you have hired a small function room then space may be limited. You may however have a huge area to fill and so will need lots of balloons and bunting to fill the space. Always allow one set of balloons per round table and at least two for a long top or buffet table. Balloons look good at doorways and on the corners of a dance floor.
If you have any further questions about party decorations please just contact us by email or telephone, we would love to hear from you.
Back to guides